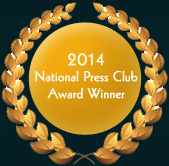 GIR's Investing in the New Europe
Bloomberg Press, 2001, "Sound, practical advice."
Wall Street Journal Europe
The Tallest Buildings in the World
11 Sept 2011, The South China Morning Post
The lead structural engineer of the World Trade Centre, Leslie Robertson, reflects on the rise and fall of an architectural marvel, write Eric Uhlfelder and William Abrams.


Click here to view this article in its entirety as a PDF.