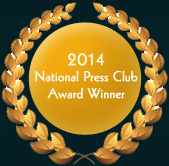 GIR's Investing in the New Europe
Bloomberg Press, 2001, "Sound, practical advice."
Wall Street Journal Europe
When Buying Closed-End Funds Makes Sense
15 September 2014, Barron's
RiverNorth uniquely profits by trading around mispricing that occurs with exchange-traded closed-end funds by loading up on these portfolios when their price discount to NAV aren't merited and shorting when funds trade at substantial premiums to their underlying value.


Click here to view this article in its entirety as a PDF.