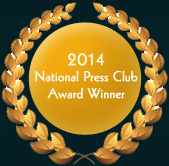 GIR's Investing in the New Europe
Bloomberg Press, 2001, "Sound, practical advice."
Wall Street Journal Europe
WHAT HEDGE FUNDS CAN DO
May 2019, SALT Conference, Las Vegas
Written for the preeminent hedge fund industry conference, this story addresses the paradox between poor broad industry performance and a select number of funds that actually deliver on the promise of hedge funds. The story identifies the underlying characteristics that make investing in certain hedge fund managers worthwhile.

Click here to view this article in its entirety.