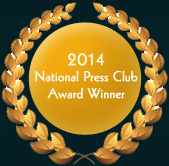 GIR's Investing in the New Europe
Bloomberg Press, 2001, "Sound, practical advice."
Wall Street Journal Europe
WATER WORLD: Terra Firm
14 October 2019, New York Theatre Wire
The premier production of The Coop, which imagines a post-apocalyptic world and the struggles that ensue.

Click here to view this article in its entirety.