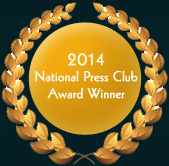 GIR's Investing in the New Europe
Bloomberg Press, 2001, "Sound, practical advice."
Wall Street Journal Europe
Understanding Hedge Fund Due Diligence
November 2013, Financial Advisor
Despite being high-net worth individuals and institutions, hedge fund investors don't necessarily understand the nuances involved in effectively vetting managers before investing. This outline helps correct basic deficiencies in the review process.


Click here to view this article in its entirety as a PDF.