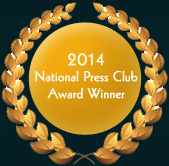 GIR's Investing in the New Europe
Bloomberg Press, 2001, "Sound, practical advice."
Wall Street Journal Europe
Turmoil's Upside: The Art of Event-Driven Investing
March/April 2014, Private Wealth
Event-driven hedge funds are among the industry's most consistent performers because they react to short-lived triggers, which have predictable outcomes—most of the time.


Click here to view this article in its entirety as a PDF.