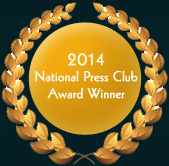 GIR's Investing in the New Europe
Bloomberg Press, 2001, "Sound, practical advice."
Wall Street Journal Europe
TOP 50 FUNDS BEAT THE MARKET BY MORE THAN 23 PERCENTAGE POINTS IN 2022: 4Q Update to the 2022 Global Hedge Fund Survey
28 February 2023 BarclayHedge
Bucking virtually all market trends, Global Investment Report's Top 50 hedge funds gained more than 5 percent last year. With fund selection based on the most consistent historical performance through 2021, more than two thirds of the group delivered positive returns in 2022. Leading the way were global macro, multistrategy, and volatility arbitrage funds. This year-end report includes full-year 2022 returns of each fund in the Top 50, analysis and interviews of leading fund managers, and insights from major hedge fund allocators about what to expect.

Click here to view this article in its entirety