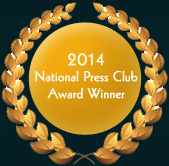 GIR's Investing in the New Europe
Bloomberg Press, 2001, "Sound, practical advice."
Wall Street Journal Europe
THEATRE REVIEW: THE CRUCIBLE, BY ARTHUR MILLER
3 December 2019, New York Theater Wire
If Eric Tucker was given a shoebox in which to direct a play, he could concoct a hit. Played out across his trademark minimalist staging that focuses attention on actors and their words, Tucker's latest production–Arthur Miller's "The Crucible"—is extraordinary.  And the play is an apt reminder of where Alternative Facts can lead us.
Click here to view this article in its entirety.