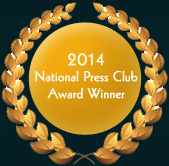 GIR's Investing in the New Europe
Bloomberg Press, 2001, "Sound, practical advice."
Wall Street Journal Europe
THEATRE REVIEW: Revival of A. A. Milne's "The Lucky One"
19 May 2017, Huffington Post
Unbeknownst to many, the creator of Winnie The Pooh, A. A. Milne was also a successful playwright, and the Mint Theater Company's revival of "The Lucky One"–a tale about two brothers–affirms the author's reputation of refinement, subtlety, and elusiveness.
Click here to view this article in its entirety.