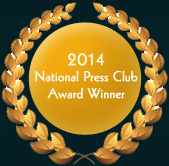 GIR's Investing in the New Europe
Bloomberg Press, 2001, "Sound, practical advice."
Wall Street Journal Europe
Theatre Review: Jules Romain's "Donogoo"… Willing Absurdity
29 June 2014, French Morning
If one ever wondered where Mel Brooks might have gotten his inspiration for "The Producers," look no further than Jules Romains' hysterical "Donogoo" at New York's Mint Theatre.


Click here to view this article in its entirety as a PDF.