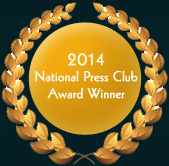 GIR's Investing in the New Europe
Bloomberg Press, 2001, "Sound, practical advice."
Wall Street Journal Europe
Theatre Review: Dead Dog Park
1 March 2016, Huffington Post
A tragic look at urban like post-Eric Garner and Tamir Rise that views policing from many sides and, like reality, resolves nothing.
Click here to view this review in its entirety..