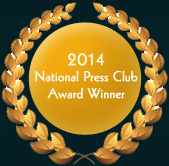 GIR's Investing in the New Europe
Bloomberg Press, 2001, "Sound, practical advice."
Wall Street Journal Europe
Theatre Review: Bedlam's Sense & Sensibility
4 May 2016, WestView News
Production after production, director Eric Tucker relishes absurdity in giving us fresh looks at the classics.
Click here to view this review in its entirety..