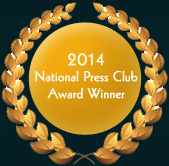 GIR's Investing in the New Europe
Bloomberg Press, 2001, "Sound, practical advice."
Wall Street Journal Europe
THEATER REVIEW: THE PRICE OF THOMAS SCOTT
February 2019, New York Theater Wire
The premise of this Mint Theater's production is compelling: exploration of the distinction between prejudice and conviction, specifically the cost one pays (along with his family) for living by one's belief. While the matter at hand would make most members of the audience wonder why this is even an issue, the reaction of Thomas' family to his decision does resolve the play with surprising compassion, if not emotion.


Click here to view this article in its entirety.