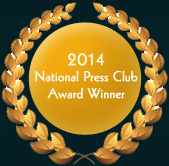 GIR's Investing in the New Europe
Bloomberg Press, 2001, "Sound, practical advice."
Wall Street Journal Europe
THEATER REVIEW: LATER LIFE AT THE CLURMAN THEATRE
April 2018, WestView News
A play about second chances at love sounds full of potential, especially when dealing with middle-aged folks who suffered a missed opportunity three decades earlier. The Keen Company's revival of A.R. Gurney's Later Life, which premiered in 1993, is a solid production, featuring screwball interludes by two of the play's four cast members, who are called upon to play multiple bit characters who seem determined to undermine the couple's ability to couple. Watching a slice of life can be a pleasant way to spend an evening. But in the case of Later Life, the result teases rather than provokes about what could've been and what theater-goers could've taken away from this well-acted, staged, and choreographed production.

Click here to view this article in its entirety.