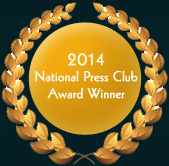 GIR's Investing in the New Europe
Bloomberg Press, 2001, "Sound, practical advice."
Wall Street Journal Europe
THE YEAR OF LIVING DANGEROUSLY: 2020 Performance of the Top 50 Hedge Funds based on Trailing 5-Year Net Returns Through 2019
March 2021, Commissioned by SALT
The Top 50 hedge funds identified in last year's SALT-commissioned study generated 1-year net returns through 2020 that virtually kept pace with the market, but with less volatility and drawdown. This was precisely the same compelling findings uncovered by the study that produced this list of best-performing funds based on net 5-year annualized returns through 2019.

Click here to view this article in its entirety.