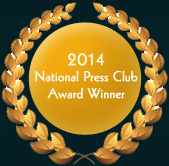 GIR's Investing in the New Europe
Bloomberg Press, 2001, "Sound, practical advice."
Wall Street Journal Europe
The World's Top Hedge Funds
21 May 2012, Barron's
As industry assets surge past $2 trillion, hedge fund strategies based on asset-backed securities occupy the top spots of our survey of the top performing funds between 2009 and 2011.


Click here to view this article in its entirety as a PDF.