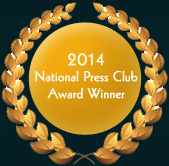 GIR's Investing in the New Europe
Bloomberg Press, 2001, "Sound, practical advice."
Wall Street Journal Europe
The Waters are Getting Rougher for Hedge Fund Managers
22 August 2016, Barron's
Hedge funds have been underperforming the market for more than 7 years. It seems that investors are finally clueing into this.


Click here to view this article in its entirety.