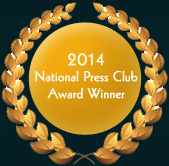 GIR's Investing in the New Europe
Bloomberg Press, 2001, "Sound, practical advice."
Wall Street Journal Europe
THE TOP 50 HEDGE FUNDS OUTPACE THE MARKET BY 28 PERCENTAGE POINTS: 3rd Quarter Update of the 2022 Global Hedge Fund survey
20 November 2022 BarclayHedge.com
Spiking volatility fueled by rising interest rates, high energy costs, and sustained inflation sent the market plummeting by nearly 24% through the first three quarters of the year. Russia's increased shelling of critical Ukrainian infrastructure as winter sets in is turning the war even more horrific. This is ratcheting up geopolitical tensions and global economic uncertainty as Europe appears headed for recession that's likely to jump the Atlantic and hit the US in 2023. And growing liquidity concerns threaten to turn this troublesome brew toxic. All this makes the Top 50 hedge funds' performance even more noteworthy. The group was up nearly 4.5% year-to-date through September, outpacing the market by 28 percentage points. Outperformance continues to be driven by multistrategy, volatility arbitrage, and global macro funds.

Click here to view this article in its entirety