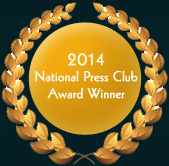 GIR's Investing in the New Europe
Bloomberg Press, 2001, "Sound, practical advice."
Wall Street Journal Europe
THE SPREAD'S THE THING
28 November 2016, Barron's
By focusing on thousands of instruments whose values should correlate, Danske's head of Hedge Fund investing Michael Petry targets when spreads between these instruments reach historical extremes. He hedges currency and interest-rate risks to limit exposure only to the spread itself. The results has enabled the Scandinavian fund manager to generate annualized gains of more than 12% since the fund was launched in 2005.


Click here to view this article in its entirety.