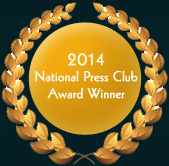 GIR's Investing in the New Europe
Bloomberg Press, 2001, "Sound, practical advice."
Wall Street Journal Europe
THE FAILURE OF THE NEW YORK CITY LANDMARKS PRESERVATION COMMISSION
25 February 2018, New York Daily News
A relentless building boom has been transforming nearly every corner of New York City, even those supposedly protected by landmark preservation status. The blame falls squarely on an inept chairwoman Meenakshi Srinivasan and Mayor Bill De Blasio.


Click here to view this article in its entirety.