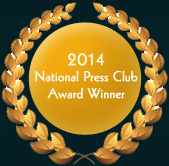 GIR's Investing in the New Europe
Bloomberg Press, 2001, "Sound, practical advice."
Wall Street Journal Europe
THE CULTURE PROJECT NEW YORK
3 January 2006, Financial Times
For most people under 50, Robert Kennedy is no more than a footnote in American political history; US attorney-general, one-term senator, presidential candidate. But despite his abbreviated life, Kennedy evolved into one of this country's unique political voices. And in this one-man off-Broadway show at the Culture Project, playwright and actor Jack Holmes reminds us how his words still resonate


Click here to view this article in its entirety as a PDF.