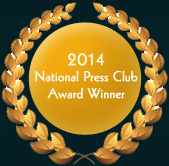 GIR's Investing in the New Europe
Bloomberg Press, 2001, "Sound, practical advice."
Wall Street Journal Europe
SC Fundamental: Old School Investing
23 February 2015, Barron's
This may be one of the oldest, most successful funds you've never heard of. By overcoming foreign regulatory and language barriers that keep most investors away from deep-value international opportunities, managers Peter Collery and David Hurwitz have found creative ways to generate uncorrelated returns for 25 years. They also invest in bargain-priced US shares. And their list of protégés are impressive, including the likes of Greenlight Capital's David Einhorn, SAC Capital Scott Bommer, and Ivory Capital's Curtis Macnguyen


Click here to view this article in its entirety as a PDF.