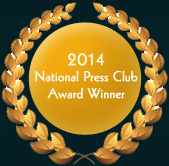 GIR's Investing in the New Europe
Bloomberg Press, 2001, "Sound, practical advice."
Wall Street Journal Europe
REVIVING AN EARLY LILLIAN HELLMAN WORK: DAYS TO COME
September 2018, WestView News
When it premiered on Broadway in 1936, Days to Come closed a week later. But the Mint Theater production reveals the timelessness and merit of this early work of one of the country's best-known playwrights.


Click here to view this article in its entirety.