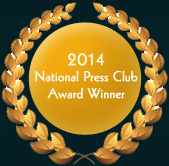 GIR's Investing in the New Europe
Bloomberg Press, 2001, "Sound, practical advice."
Wall Street Journal Europe
RETHINKING TRAPPING AND PUBLIC LANDS
October 2016, Huffington Post
An initiative that's on this November's ballot in Montana, if approved, will place Montana in the fore of public land management. Passage will bolster the growing movement by western states to restrict trapping on public lands, making these spaces safer for everyone, while further increasing debate about the humaneness of this form of killing.


Click here to view this article in its entirety.