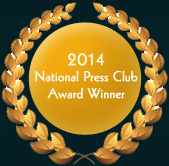 GIR's Investing in the New Europe
Bloomberg Press, 2001, "Sound, practical advice."
Wall Street Journal Europe
REBIRTH OF A JEWEL: Restoration and Reopening of the TWA Terminal at NY's Kennedy Airport
September 2019, WestView News
Entering into the spacious TWA Terminal is like walking into a museum. No. It's like walking into a painting; wherever you look is extraordinary composition of form, light, and color.  When TWA commissioned Eero Saarinen, the Finnish sculptor and architect, to create its flagship international terminal at JFK, he redefined the experience of air travel. Saarinen offered travelers a place as spectacular as any destination to which they may have been heading. 

Click here to view this article in its entirety.