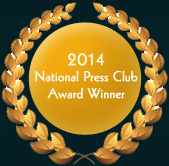 GIR's Investing in the New Europe
Bloomberg Press, 2001, "Sound, practical advice."
Wall Street Journal Europe
Playing Royal Bank of Scotland's Preferred Shares
11 April 2011, Barron's
There aren't many free lunches for fixed-income investors these days. But the Royal Bank of Scotland may be serving up one in the more obscure corner of US-dollar denominated preferred shares.


Click here to view this article in its entirety as a PDF.