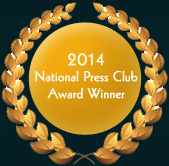 GIR's Investing in the New Europe
Bloomberg Press, 2001, "Sound, practical advice."
Wall Street Journal Europe
NO WORRIES! A Phenomenal Hedge Fund Down Under
27 June 2016, Barron's
Most of the media has it all wrong about Australia. No surprise LHC Capital Australia High Conviction is probably the most outstanding hedge fund you've never heard of.

Click here to view this article in its entirety
.