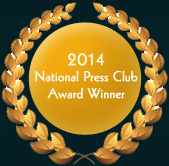 GIR's Investing in the New Europe
Bloomberg Press, 2001, "Sound, practical advice."
Wall Street Journal Europe
MR. SCHIFF COMES TO THE VILLAGE
January 2022 Eric Uhlfelder
In the hallow space of the Great Hall at Cooper Union, Adam Schiff was interviewed by Preet Bharara, the former US Attorney for the Southern District of New York. The outspoken Congressman from California's 28th congressional district former was the lead manager during Trump's first impeachment and now a member of the House Select Committee investigating the January 6th insurrection. Schiff relied on his unique blend of practical and pastoral oratory in discussing what in describing the current chaos in the capitol as Midnight in Washington.

Click here to view this article in its entirety.