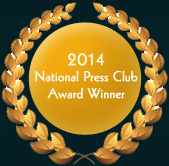 GIR's Investing in the New Europe
Bloomberg Press, 2001, "Sound, practical advice."
Wall Street Journal Europe
Mangrove Partners Fund
27 July 2015, Barron's
Nathaniel August's contrarian bent has enabled this opportunistic fund—which relies on various strategies including long-short equity, merger arbitrage, stressed and distressed debt, and liquidations–to realize annualized gains of more than 28% a year since it was launched more than 5 years ago.


Click here to view this article in its entirety as a PDF.