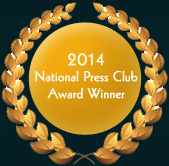 GIR's Investing in the New Europe
Bloomberg Press, 2001, "Sound, practical advice."
Wall Street Journal Europe
ISRAEL'S EMERGING HEDGE FUND INDUSTRY
6 August 2018, Barron's
In spite of the country being known for its innovative and technological prowess, Israel's tiny stock market has been floundering. But several of the nation's top hedge fund managers have been able to exploit this under-researched market and deliver performance that revivals the US.


Click here to view this article in its entirety.