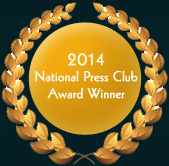 GIR's Investing in the New Europe
Bloomberg Press, 2001, "Sound, practical advice."
Wall Street Journal Europe
Interview Of Niall Ferguson: "The System Is Not Only Unreformed, But Actually Worse Than Before"
4 January 2010, Financial News
At the beginning 2009, Niall Ferguson told the Financial News that fixing the banking crisis was key to reviving the world economy. A year later, he has found government focus on addressing the symptoms of the crisis, rather than the illness itself, has left the world as vulnerable as it was a year ago.


Click here to view this article in its entirety as a PDF.