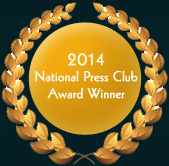 GIR's Investing in the New Europe
Bloomberg Press, 2001, "Sound, practical advice."
Wall Street Journal Europe
HISTORIC DIVERGENCE: FIRST-HALF UPDATE OF THE 2022 GLOBAL HEDGE FUND SURVEY
26 August 2022, Global Investment Report and BarclayHedge
The 2022 Top 50 hedge funds–based on the best performing broad strategy funds over the past 5 years through 2021–outpaced the market during the first half of 2022 by 21 percentage points. The 50 were propelled by strong returns of multistrategy, global macro, and volatility funds that made the list. The review also includes a critical look at the current macro environment and forward-looking thoughts offered by various industry leaders.

Click here to view this article in its entirety.