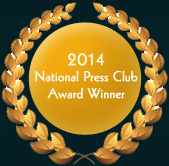 GIR's Investing in the New Europe
Bloomberg Press, 2001, "Sound, practical advice."
Wall Street Journal Europe
Hedge Fund Stocks: A Short View
31 March 2014, Barron's
A few major hedge funds are publicly traded companies, enabling investors to get on the right side of the industry's rich fees, which net out in the form of attractive dividends. But these shares are hardly no-brainers, and may best serve hedge fund investors who wish to hedge their exposure—by shorting their own management firms.


Click here to view this article in its entirety as a PDF.