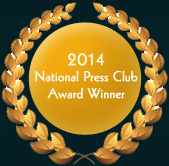 GIR's Investing in the New Europe
Bloomberg Press, 2001, "Sound, practical advice."
Wall Street Journal Europe
Harvest Small Cap Partners Strategy Fund
28 September 2015, Barron's
Jeff Osher may be the most consistently successful hedge fund manager investors have never heard of. Since launching a decade ago, Osher's Harvest fund has averaged yearly double-digit gains, with relatively low volatility, and a worst drawdown of just 10 percent. Besides prescient stock calls both long and short, his performance has been abetted by capping assets. Osher closed his fund more than 7 years ago, and regularly returns profits to investors.


Click here to view this article in its entirety as a PDF.