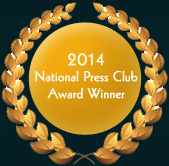 GIR's Investing in the New Europe
Bloomberg Press, 2001, "Sound, practical advice."
Wall Street Journal Europe
FOUR LOST IRISH PLAYS
8 September 2017, Irish America Magazine
In the 1930s, Teresa Deevy was on her way to becoming Ireland's next great playwright, having been favorably compared to Chekov and considered a likely successor to Sean O'Casey. But her fortunes changed when the Abbey—the state theater which had produced 6 of her plays in as many years—changed leadership and shut her down. Across the ocean eighty years later, Jonathan Bank has revived her legacy through his Mint Theater's Teresa Deevy Project, which to date has produced three major works and most recently four of her short plays, three of which were world premieres.
Click here to view this article in its entirety.