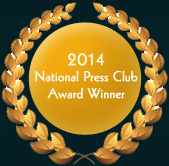 GIR's Investing in the New Europe
Bloomberg Press, 2001, "Sound, practical advice."
Wall Street Journal Europe
Financial Times 4th Annual Hedge Fund Review
5 January 2015, Financial Times
A unique look at recent trends in the hedge fund industry, recommendations for how the industry can enhance overall performance, and an in depth review of 5 hedge funds, each running a distinct strategy, relying on high operational standards, and having generated consistent long-term performance.


Click here to view this article in its entirety as a PDF.