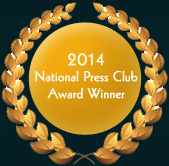 GIR's Investing in the New Europe
Bloomberg Press, 2001, "Sound, practical advice."
Wall Street Journal Europe
Extreme Opportunism
October 2012, Financial Advisor
Opportunistic investing exploits mispricing, but one particular approach minimizes risk and typically delivers upside of 10 to 15% in a short time.


Click here to view this article in its entirety as a PDF.