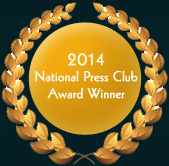 GIR's Investing in the New Europe
Bloomberg Press, 2001, "Sound, practical advice."
Wall Street Journal Europe
EVENT DRIVEN FUNDS BUILT FOR ALL SEASONS
28 August 2017, Barron's
While it remains among the industry's least favorite strategy, especially as the bull market continues to run, many Event-Driven funds have been doing well and may be the best way to navigate more turbulent markets that will likely accompany 2018.

Click here to view this article in its entirety
.