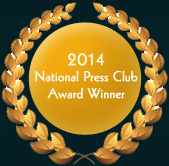 GIR's Investing in the New Europe
Bloomberg Press, 2001, "Sound, practical advice."
Wall Street Journal Europe
Europe's Troubled Peripheral Markets: More than Lip Stick?
June 2014, Financial Advisor
Europe's PIIGS epitomized the continent's economic problems at their worst. But the markets of Portugal, Italy, Ireland, Greece, and Spain have begun to rally. Is this recovery for real?


Click here to view this article in its entirety as a PDF.