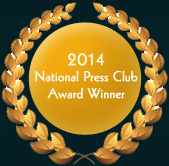 GIR's Investing in the New Europe
Bloomberg Press, 2001, "Sound, practical advice."
Wall Street Journal Europe
Digging Up Minefields — The Art of Distressed Investing
November/December 2013, Private Wealth
Hedge funds have been underperforming the market. But one industry strategy that offers unique and consistently profitable exposure targets opportunities that evolve when companies stumble. Investing when most of the bad news is known can actually involve less risk and more upside than when buying into ostensibly sound companies.


Click here to view this article in its entirety as a PDF.