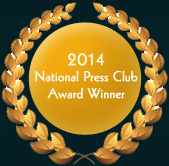 GIR's Investing in the New Europe
Bloomberg Press, 2001, "Sound, practical advice."
Wall Street Journal Europe
CHEAP EUROPEAN PREFERRED SHARES
31 December 2018, Barron's
Legacy European preferred shares, which trade in the US pay a constant dividend and cannot be converted into equities if issuers stumble into hard times, turned into compelling high-yield value plays at the end of 2018 when the entire market sold off.


Click here to view this article in its entirety.