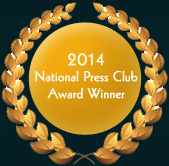 GIR's Investing in the New Europe
Bloomberg Press, 2001, "Sound, practical advice."
Wall Street Journal Europe
Buying Hedge Fund Fees
24 November 2014, Barron's
A protracted yield-deprived environment has spawned growing interest in minority stakes in hedge funds to access a portion of their attractive management and performance fees. But these long-term plays come with uncertain exit strategies. Are they worth it?


Click here to view this article in its entirety as a PDF.