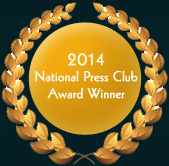 GIR's Investing in the New Europe
Bloomberg Press, 2001, "Sound, practical advice."
Wall Street Journal Europe
Barron's Top 100 Hedge Funds
19 May 2014, Barron's
2013 marked the changing of the guard as equity funds dominated this year's survey, which tracked trailing three-year performance of funds from all over the world. Until last year, structured credit had led the chase for returns over the past several years as the value of distressed mortgages rebounded.


Click here to view this article in its entirety as a PDF.