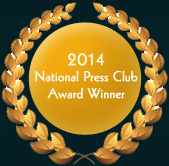 GIR's Investing in the New Europe
Bloomberg Press, 2001, "Sound, practical advice."
Wall Street Journal Europe
Barron's Best 100 Hedge Funds: 2015 List
16 May 2015, Barron's
Equity funds continued to dominate our annual review of the best-performing hedge fund. But what may have surprised was the strong showing made by credit funds, which continued to excel as the European Central Bank pushed rates down into negative territory and the Federal Reserve Bank has balked at raising rates.


Click here to view this article in its entirety as a PDF.