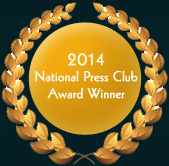 GIR's Investing in the New Europe
Bloomberg Press, 2001, "Sound, practical advice."
Wall Street Journal Europe
BARRON'S 2018 HEDGE FUND SURVEY
30 April 2018, Barron's
While most media attention on hedge funds is focused on the uber wealthiest of funds, for the third straight year a small foreign manager has taken the top spot in the Barron's annual hedge fund survey. Allocators should take note of the reasons why small funds can excel.


Click here to view this article in its entirety.