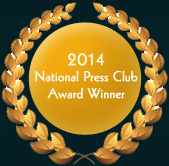 GIR's Investing in the New Europe
Bloomberg Press, 2001, "Sound, practical advice."
Wall Street Journal Europe
BARRON'S 2017 HEDGE FUND SURVEY
19 June 2017, Barron's
A small, unknown Madrid-based fund topped this year's hedge fund survey, outdistancing the second-place finisher by the widest margin ever tracked: an annualized rate of nearly 3 percentage points over the past three years through 2016. EQMC excelled by relying on the unique European strategy of benign activism. The managers help quality small-cap firms realize their potential. More traditional strategies that were well represented in the top 100 list included Equity Long-Short and Quants. And a surprising number of CTAs and Macro managers bucked their strategy's negative trends.

Click here to view this article in its entirety
.