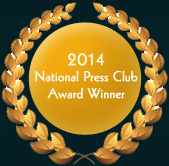 GIR's Investing in the New Europe
Bloomberg Press, 2001, "Sound, practical advice."
Wall Street Journal Europe
ASSESSING HEDGE FUND PERFORMANCE: FIRST HALF 2018
10 September 2018, The Wall Street Journal
Hedge funds were suppose to thrive with volatility returning to the market. But their anemic performance during the first half of the year shows owning the S&P 500 Index continues to be a better bet . . . for the 10th straight year.


Click here to view this article in its entirety.