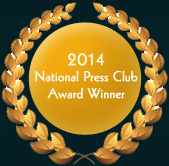 GIR's Investing in the New Europe
Bloomberg Press, 2001, "Sound, practical advice."
Wall Street Journal Europe
AN UNKNOWN EVENT DRIVEN FUND HAS BEEN BEATING THE MARKET FOR NINE YEARS . . . WITH LESS VOLATILITY THAN THE S&P 500
30 October 2017, Barron's
An unorthodox background, a different approach to event-driven investing, coupled with a healthy dose of skepticism has helped Ilya Zaides's KG Investments to not only consistently top
the market since it was launched 9 year ago, but to do so with less risk.

Click here to view this article in its entirety
.