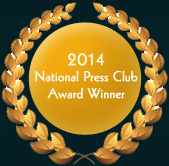 GIR's Investing in the New Europe
Bloomberg Press, 2001, "Sound, practical advice."
Wall Street Journal Europe
A NEW WAY TO ACCESS PRIVATE EQUITY GROUPS
5 February 2018, Financial Times
Venerable private equity shops like KKR, Apollo, and Carlyle were always thought to be the exclusive domain of sophisticated high-end investors. But these groups have started issuing preferred shares that tap into their cash flows to pay attractive dividends to anyone with a brokerage account.


Click here to view this article in its entirety.