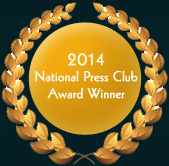 GIR's Investing in the New Europe
Bloomberg Press, 2001, "Sound, practical advice."
Wall Street Journal Europe
2022 GLOBAL SURVEY OF THE TOP 50 HEDGE FUNDS: Hedge Fund Investing During a Time of War
22 June 2022, BarclayHedge
Like the 2020 edition, this year's survey collides with a seismic event — a geopolitical shock wrapped around soaring inflation, rising interest rates, and weakened supply chains. Several key takeaways: Over the past five years through 2021, the Top 50 hedge funds collectively generated net annualized returns that trailed a red-hot S&P 500 by just several percentage points, but did so with significantly less risk. The group's largely uncorrelated returns produced a 5-year Sharpe Ratio that was more than 60 bps higher than the market. And as was shown in the 2020 survey, the current Top 50 funds have again preserved capital better than the S&P 500 during the first quarter drawdown. This year's survey includes interviews with Citadel, Amundi, Generali, EFG International, NS Partners, along with six hedge fund managers who made this year's Top 50.

Click here to view this article in its entirety